metal modern chopstick rests
Metal chopstick rests for modern dinner table
[Chushin Kobo]Chopstick rest
Our original set
Exclusive gift box
With Japanese description
With English description
Calm and solid presence on the table.
Stylish chopstick rests can make your dinner table grade up.
Here, let us introduce modern chopstick rests from Chushin Kobo.
These metal chopstick rests are made in Yamagata prefecture in Japan.
Yamagata prefecture is famous for a traditional craft, "Yamagata casting."
We introduce you modern and traditional chopstick rests.
Looking for modern chopstick rests
Chopstick rests attach beautiful presence in the table coordinate.
There are all sorts of chopstick rests in Japan. However, our buyer looked for a solid design chopstick rests. Finally, she encountered these metal chopstick rests from Chushin Kobo.
Unique texture of handmade casting and modern design. These metal chopstick rests have calm and solid presence. Your dinner table will become more stylish with these modern chopstick rests.
Three components of modern chopstick rests
Unique material to be modern chopstick rests

You may have seen wooden or porcelain chopstick rests.
How about metal chopstick rests? On top of that, have you ever seen cast iron chopstick rests?
Unique material gives an accent to your dinner table.

Simple and detailed design to be modern chopstick rests

To make a total coordinate with tableware, chopstick rests should be simple. However, too simple chopstick rests are boring. We should care about details, shouldn't we? Then, these metal chopstick rests are the best!
You can feel Japanese hospitality (omotenashi) from small tools like these metal chopstick rests. Japanese culture pays careful attention to table coordinate.




Solid and stable form to be modern chopstick rests

Chopstick rests are the pedestals of chopsticks. Chopstick rests keeps the chopstick hygienically, and prevent from falling from the table.
Therefore, please select chopstick rests with certain weight and stability.
Cast iron chopstick rests have enough weight and stability.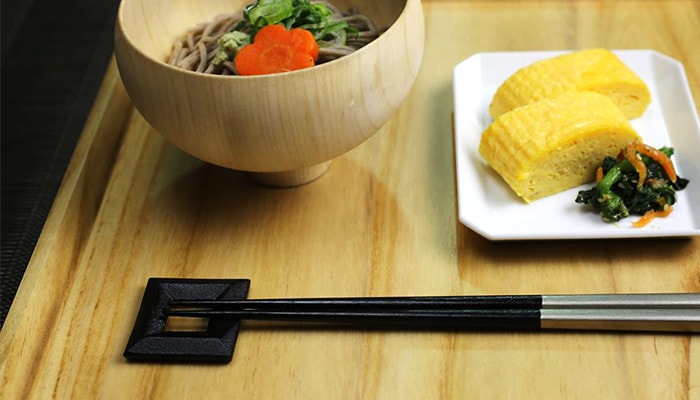 Chushin Kobo, a brand of Yamagata casting
Chushin Kobo is a casting studio in Yamagata prefecture in Japan. It proposes the traditional beauty of Japanese casting to modern life style by the design of Hisanori Masuda. Mr. Masuda is a designer and creator.
"Chusin Kobo" states its concept as follows. "Traditional crafts are not conservative originally but it is extremely innovative in the times. It has both hardware and software." So, "Chusin Kobo" is a creative atelier which produces casting with universal design.
Products in Chusin Kobo aim to unify good quality and function.
Its high design and skill won many authoritative awards. Also, its items are kept in art museums around the world.
In fact, you can see the logo of Chushin Kobo at the back of metal chopstick rests. The logo is a seal, so you can remove it easily.
Hisanori Masuda, designer and casting craftsman
Hisanori Masuda is a pioneer of a brand which collaborates traditional crafts with designer. He is a designer as well as a craftsman.
Mr. Masuda was majored in design at university. After graduation, he developed design for local industries in Japan with his teacher Mosuke Yoshitake.
He moved to Yamagata in 1977, and established a brand "WAZUQU" with his own design.
In 1997, he built "Chusin Kobo". He has proposed the beauty of Japanese traditional Yamagata casting to the modern life style. Now, he makes every effort to make Yamagata as a top casting producing area in the world.
Stylish and modern design chopstick rests
The chopstick rests designed by Hisanori Masuda have stylish and modern design with the concept of following; "traditional crafts are not conservative originally but it is extremely innovative in the times. It has both hardware and software." The simple forms of metal chopstick rests are the motifs of Japanese crests.
In addition to beauty, the metal chopstick rests have been designed for good usability. Mr. Masuda designed the form of chopstick rests in order to make it easy to hold and stable when people put chopstick on.
Simple and modern chopstick rests are filled with designer's thought.
Mr. Masuda has a dream to inherit Yamagata casting to next generations.
Solid and modern chopstick rests are nice gift
Metal chopstick rests from Chusin Kobo. The modern chopstick rests are made of Yamagata casting, a Japanese traditional craft.
You can feel the solid texture of unique casting surface.
The metal chopstick rests gain its profundity as you use it repeatedly.
You can feel the warmth of handmade products.
All chopstick rests are in the exclusive boxes. We recommend these modern metal chopstick rests for wedding gifts or birthday presents.
We wish that these metal chopstick rests will make a modern table.
We prepare our original English description for this product. Please do not worry about care or use.
Caring tips
* Please wash with soft cloth or sponge with ph.-balanced detergent after use.
* Please wipe the water after use for preventing from the rust.
* Please keep away from the water and moisture if you do not use for a long time.
* This product is all handmade. Each product may be slightly different from each other of its finishing or the coloring.
* Please do not use microwave or dishwasher. The material may be damaged.
* All the products are handmade by traditional craftsmen. Please enjoy different perspective of each product.
Personalize gift service
For the bulk order more than 20 items, we can personalize your items with the name of your company, school, or with logomarks. If you plan to order corporate gifts or keepsake gifts, please contact us from "Contact us."
* Personalize gift needs service fee. The fee depends on items.
* Personalize service is not available for some products. Please feel free to ask us.