Unique donburi bowl and tea cups, Trace Face, CEMENT PRODUCE DESIGN
Hand-knit? Unique donburi bowl and tea cups Trace Face
[CEMENT PRODUCE DESIGN]Trace face / donburi
Our original set
Exclusive gift box
With Japanese description
With English description
Like an artwork! Unique donburi bowl and tea cup
Fresh white color and delicate stitches.
This is donburi bowl and tea cup of "Trace Face" series. Trace Face series expressed the soft touch of knit wear on the porcelain.
Mat unglazed texture makes the delicate and warm touch of knit stand out.
Donburi bowl and tea cups realizes the surprising combination of "Hard porcelain with soft knit." We are impressed by this unique porcelain just like when we see the artwork.
Innovated the 1300-years traditional skill
These unique donburi bowls and tea cups are produced by a ceramic maker "M.M. Yoshihashi" and "CEMENT PRODUCE DESIGN."
M.M. Yoshihashi is a maker in Seto city of Aichi prefecture. Seto and Mino region have more than 1300-years history of ceramic production. Among various production skill, these donburi bowl and tea cup are produced with special skill of mold production.
This donburi bowl and tea cup are the masterpiece that express traditional skill of Seto ware by modern design.
Hand-knit? NO, Hand-carved knit!
Usually, ceramics are decorated by drawing or printing patterns on plain plates or bowls.
However, these unique donburi bowl and tea cups are produced with another way. Craftsmen carved patterns directly to the ceramics.
To be precise, craftsmen carved the mold for Trace Face series. By pouring pottery cray into carved mold, M.M. Yoshihashi and CEMEET PRODUCE DESIGN realized the delicate pattern on ceramics.
You will be surprised to see the detailed design of donburi bowl and teacups. It is natural to think "Craftsmen press knit wear against a bowl?" When you see them at the first time.
In fact, the mold craftsmen take about 2 weeks to produce a mold. So, the unique donburi bowl and tea cups are exactly hand-carved knit!
Unique tea cups have warmth
Knit design cups "Trace Face" are all produced by craftsmen.
The pale color inside makes the warmth of handmade crafts stand out.
Delicate but simple design fits green tea, black tea, coffee, or other various drinks. Also, simple design fits various types of interior.
Handmade, hand-carved tea cups relax you always.
What do you put inside of the unique donburi bowl?
Donburi bowl is a bowl used for donburi (a kind of Japanese food.) You may have heard or eaten Katsudon, Gyudon, or Tendon. But you may have not seen such a stylish donburi bowl!
You can use the stylish design donburi bowl for donburi menu, salad bowl, or fruit bowl.
The donburi bowl of Trace Face series has lid. Therefore, you can make your guest surprise by opening the lid.
What kind of donburi menu you cook for this unique donburi bowl?
Unique donburi bowl and teacups "Trace Face" have 2 designs
Trace Face has got attention as its stylish design. There are 2 designs for unique teacups.
One is "Knit wear." The unique donburi bowl and teacups are made of ceramics, but the knit wear pattern reminds us the fluffy knit wear.
Another pattern is "Rattan basket." It is a fresh design that reminds us a rattan basket. Unique donburi bowl does not have Rattan basket pattern, Knit wear pattern only.
Both patterns are very stylish, unique and real!
Unique donburi bowl and teacups have beauty in detail and usability.
Inside the teacups, there are 4 colors; White, Pink, Green and Blue. You can use these fresh colors' teacups through the year.
Find a mark of handmade products on stitch
When you see cup of Knit wear, you can find some places that has vague stitch. However, this is one of the marks of handmade product.
Craftsmen repeat shaving burr and wipe the place with water to make parting line beautiful. As a consequent, stitch becomes vague in some places.
Of course, craftsmen carefully finish the cups to make all the stitches look beautiful as much as possible. However, they cannot avoid some vague places fully for porcelain cups.
This unique Knit wear cups are the product that easily get individual difference. So, we are happy if you enjoy taste and warmth of handmade products.
Compared to Knit wear cups, whole unique donburi bowl or Rattan cup are beautiful in stitches. Of course, we can see different individualities on them, too. But if you care about stitches, we recommend you Rattan cups.
For gifts! Japan Design Store original sets
Unique donburi bowls and teacups "Trace Face" have been selected as wedding gifts. Therefore, Japan Design Store makes sets with popular combinations in exclusive box.
We make cute and warm "Knit wear" pairs, fresh "Rattan basket" pairs, or a pair of "Knit wear" and "Rattan basket" to enjoy the difference of texture.
Our original exclusive box is a simple ivory box with gold logo mark. It has suitable elegance for presents.
What is your favorite set? Please find your best one!
Best pair of unique teacups as wedding gifts
[Exclusive box] Trace Face Pair of teacups / Red & White / Knit wear

"I would like to send tableware with good design as his / her wedding gift!"
This pair has been especially popular from those who have passion for gifts.
Red and white is a representative auspicious color combination in Japan. Gentle colors of white and pink suits sweet just-married couple.

Unique teacups celebrate happy wedding.




Related Products

Best pair of unique donburi bowl and teacups for those who start a new life
[Exclusive box] Trace Face Donburi bowl & teacup / Knit wear
[Set of 4] Trace Face / Teacup Knit wear

Start a new life with unique design tableware!
If you would like to enjoy your new life, how about starting it with unique donburi bowl and teacup of Trace Face?
The texture of knit wear relaxes you every time you use it.
Also, this set is good as housewarming gifts for your friends.




Related Products

If you start a new life with your family, we recommend a set of 4 teacups. Cute cups have relaxing pale colors. You can use the teacups with your family or entertain guests.
Teacups can be used as dessert cups, too. So, you can use the unique teacups for the dessert time. This set is also suitable for housewarming gifts.




Related Products

Best pair of unique teacups as gifts for women
[Exclusive box] Trace Face / Pink & Blue / Knit wear

Unique and cute teacups pair would be great gift for women.
For the Mother's Day gifts, retirement gifts, or new baby gifts, cute teacups are suitable.
A pair of Pink & Blue teacups of Knit wear is the most recommended pair for women. Gentle Knit wear teacups will send your thoughtful heart.




Related Products

Best pair of unique teacups as gifts for men
[Exclusive box] Trace Face / White / Knit wear & Rattan basket

How about sending unique teacups for stylish men? Teacups pairs of Trace Face would be great Father's Day gifts. Retirement gifts, or the Valentine's Day gifts.
Stylish men like rare items that other men do not have. So, let's make them surprise with a pair with different textures.




Related Products
Gifts for unique design lovers, or overseas friends
Knit design donburi bowl and tea cups will be surprised by everyone. In addition to unique design, Trace Face series are made with elaborate skill of craftsmen. So, the unique donburi bowl and tea cups are suitable items for gifts.
Unique teacups can be used for tea or coffee. So, it has been popular regardless of generations.
Especially for unique design lovers, or Japanese lovers, teacups and donburi bowl can be great gifts.
Popular item as wedding gifts
Cute but simple design tea cups have been popular items as wedding gifts. Japan Design Store offers some pair sets of teacups.
The most popular pair is auspicious pink and white pair. In Japan, the combination of red and white is auspicious color.
Also, Trace Face series has another pattern "Rattan basket." Please select your favorite pattern or color.
Set with exclusive box for great gifts
Regardless of sex and ages, simple but delicate design cups are loved. For tea lovers or coffee lovers, unique tea cups are good tableware. Japan Design Store offers our original gift box for pairs of cups or donburi bowls. Simple and elegant box would be suitable for presents.
We make pairs from particularly popular design. Cute knit wear pattern pair, fresh rattan basket pair, or pair of both patterns.
Please select your favorite set from our original sets.
How about sending pair teacups for tea lovers?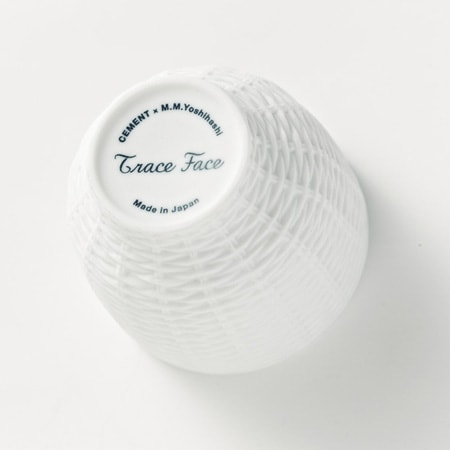 Caring tips
* Microwave oven and dishwasher safe.
* You cannot use oven and open fire to warm this.
* Please avoid using detergent with abrasive or metal scouring brush. It may cause damage on the ceramics.
* When the donburi bowl or tea cup are hot, please do not cool them rapidly.
* All the products are handmade by traditional craftsmen. Please enjoy different individualities of each product.
Personalize gift service
For the bulk order more than 20 items, we can personalize your items with the name of your company, school, or with logomarks. If you plan to order corporate gifts or keepsake gifts, please contact us from "Contact us."
* Personalize gift needs service fee. The fee depends on items.
* Personalize service is not available for some products. Please feel free to ask us.