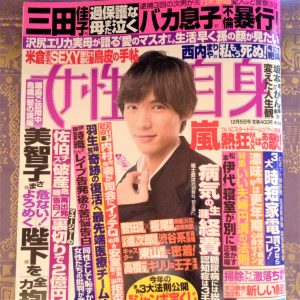 "Josei Jishin" is a national women's weekly for Japanese women.
We can see this magazine in the waiting room of hospitals, or at hair salon.
The magazine introduces gossips, wisdom of life, or easy menu.
It is the supporter of all women.
Well, that famous magazine introduced Japan Design Store original item "Jubako" in their latest issue on December 5th!
In addition, we can see many items that we introduce in our store.
Let us introduce our honorable items!
Japan Design Store original Jubako!
In the magazine, our Jubako "3-tiered Jubako / 6.5 sun / Red, Gray, Black"
In the latest number, the magazine has a special pages that introduce traditional crafts for modern life style.
It is our honor that our Jubako is on the top page!
In Japan, Jubako is especially used for Osechi.
We eat Osechi for the New Year's Day.
Also, it is recommended for the home parties.
As it introduced at the page, "Red, Gray, Black" Jubako is Japanese traditional color, but has French atmosphere somehow.
Other items in the magazine
At the special pages, we find many items that are sold in our store, too!
Let me introduce them.
In our store, this Bamboo arrows 2 pairs from Floyd have been popular item for gifts.
*Now, the box is changed into the box made of thick paper
Slate cheese board SUZURI from Studio GALA can be a stylish plate for sashimi!
Our long-selling item Suzugami from syouryu.
By the cut work of Edo Kiriko, cute Mt. Fuji is expressed.
Japanese cut glass Fujiyama from Floyd.
For a warm tea time, Trace Face teacup from CEMENT PRODUCE DESIGN.
******************************
These are the items introduced at the Josei Jishin.
All the items will work hard for the home party.
Please prepare for the parties with Japan Design Store!