※This page is translated using machine translation. Please note that the content may not be 100% accurate.
Cement Produce Design Trace Face Crafts
Hand-knitted? Hand-carved bowl!
[CEMENT PRODUCE DESIGN]Trace face / donburi
$19.99~ USD
Our original set
Exclusive gift box
With Japanese description
With English description
Artistic Donburi (bowl) and Teacup!
Fresh white and delicate stitches ...
The bowl and teacup "Trace Face / Trace Face Donburi" of Cement Produce Design. Soft knit texture of Cement Produce Design's bowl and teacup "Trace Face / Trace Face Donburi" are beautifully expressed.
The outside is finished without glaze, it is highlights the delicate and warm expression of knit patterns.
Surprising combination of "hard ceramics and soft knit" is the artistic tableware.
Innovation of 1300 years of traditional craftsmanship
"Trace Face" is a product that was born by the joint development of M.M.Yoshihashi and Cement Produce Design. M.M.Yoshihashi is a pottery type manufacturer of Seto City, Aichi Prefecture.
Ceramics production of Seto and Mino region has a history of more than 1300 years. It is a product that takes advantage of manufacturing technology of pottery type.
Seto Ceramic technology is known for "Setomono (crockery)". It is a stylish product that represents the Setomono technology by modern design.
Hand-carved by craftsmen, not hand-knitted
Usually, decoration of ceramics are referred to as "Sometsuke ・ Uwae", use the technique to draw a pattern to the plain pottery.
This "Trace Face" is that engrave a pattern rather than draw to pottery itself, is a product that was a challenge to the new possibilities of ceramics.
By using a mold carved pattern, they have achieved the delicate uneven expression in ceramics.
"Made by pressing a knitting?" Realistic representation of the knit is shaped by the mold that was produced by ceramic type craftsmen. It takes approximately two weeks to make the mold.
The mold is made by hand-carved.
Truly hand-knitted, it is hand-carved knit.
Warmth you want to touch
"Trace Face" has been made by craftsmen throughout the entire process.
The color of pale pastel colors also brings out the handmade warmth.
Sophisticated and simple design fits in any drinks such as tea or coffee.
In addition, it will goes well with the interior of Western style or Japanese style.
It is a tableware that you want to have at any time.
Well, what to put into the Trace Face?
"Trace Face Donburi" is a bowl.
"I've never seen such a bowl!" You might be surprised. This bowl is an innovative tableware.
It is gorgeous when you serve the salads and fruits at the time of the party. It is gorgeous when you serve the salads and fruits at the time of the party. Of course, such as pork cutlet on rice and seafood bowl, putting a Japanese donburi style dishes is perfect.
Since it is with the lid, you can also use it for a little surprise.
If you put out an after-dinner dessert quickly from the refrigerator as shown in the photograph, everyone will be surprised.
It is fun just to think about what to put.
Gifts for those who love design or people overseas
Always with a surprise "Trace Face".
This tableware is the perfect gift for design lovers .
It will be pleased as a gift towards the tea lovers overseas.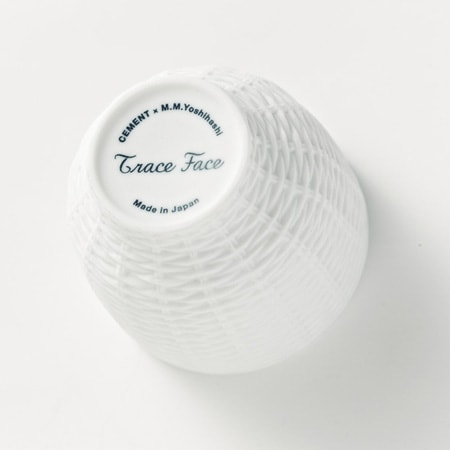 Caring tips
* You can use the product in the microwave, dishwasher.
* Please avoid using the oven and freezer.
* Please avoid washing with abrasive cleaners or steel wool. It may cause damage.
* When the product body is hot, please avoid rapid cooling such as immersion in water.
* All the products are handmade by traditional craftsmen. Please enjoy different perspective of each product.
Putting name service
We cannot offer putting name service for all products. We appreciate your kind understanding.