Cute Japanese mug from Arita porcelain
Colorful pale color mug! Japanese Arita porcelain
[1616/arita japan]S&B mug cups / espresso cups
Our original set
Exclusive gift box
With Japanese description
With English description
Cute pale color mug of Arita porcelain
Freshen your table up with pale color mug and espresso cup!
These mugs have smooth texture of porcelain, and cute pale color like candies.
Can you believe that this is Arita porcelain, not a Northern European tableware?
These mugs and espresso cups are made in Arita, Saga prefecture in Japan. Arita is famous for Arita porcelain, a Japanese traditional craft.
Momota Touen, one of the general trading company of Arita porcelain produced a new brand 1616/arita japan. These mugs and espresso cups are series of S&B "Colour Porcelain."
This is a new tableware with new design and traditional skill.
Cup? Mug?
Is this … an entirely new teacup!?
What do you think about this mug of 1616/arita japan?
"Is this a mug? But it does not have a handle on it!"
You are right. This is a mug without handle.
Most of Japanese tea cup (Japanese people call it yunomi) do not have handle.
When you have the mug, you can feel the thinness of mug. It seems to be more a glass than a mug.
When you touch the mug, it is smooth texture.
For Japanese people, it is a "modern yunomi."
Entirely new texture and design.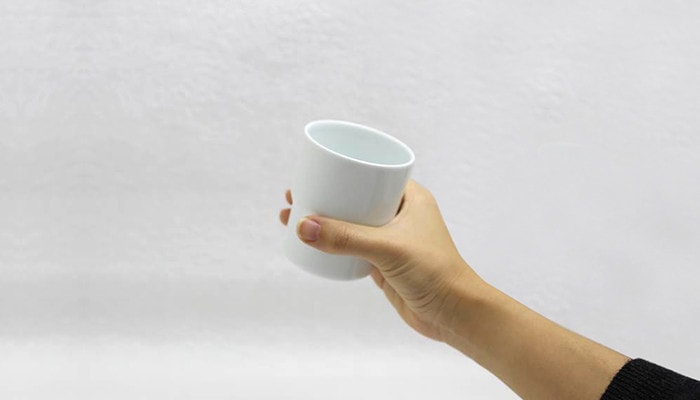 Even though the mug is thin, it is tough. The traditional skill of Arita porcelain makes it possible.
Also, you can stack up mugs and cups. Stacking colorful mugs create cute gradation.
You can enjoy the mugs and cups when you use them, as well as stack them up.
Hard to scald yourself
Have you ever scalded yourself with hot coffee or tea? We believe most people have experienced that kind of scald.
Say goodbye to the scald with this mug and cup!
Since this mug has uniform thinness by Japanese traditional skill, you can feel the temperature of the drink with your hand.
Therefore, if you think it is ok when you hold the cup, it is the best time for drink!
A collaboration with Dutch designers and Japanese traditional craft Arita porcelain
This mug and cup is a lineup of S&B "Colour Porcelain" series. The S&B series was born with a collaboration of Dutch designers Scholten & Baijings with the 400 years' history of Arita porcelain.
SCHOLTEN&BAIJINGS is a design studio. Two designers Stefan Scholten and Carole Baijings established the studio in 2000.
Since its establishment, their work has been characterized by bright coloring and new design interpreted decorative motif with minimal approach.
The products of SCHOLTEN&BAIJINGS have got attention from art museum or private collectors.
For designing this Japanese Arita porcelain mug, they researched and analyzed the Arita porcelain widely. They interpreted the traditional color of Arita porcelain, and designed S&B "Colour Porcelain."
The skill and design get worldwide attention
1616/arita japan Colour Porcelain series, including this mug and cup, won the Best Tableware Award in ELLE DÉCOR International Design Award 2013.
The uniform thick of porcelain, the high skill of flat finishing, and great design of this Arita porcelain has gained attention from the people in the United States of America, or Europe.
Now, various magazines pick up the tableware of 1616/arita japan. Also, interior shops and restaurants in Japan sell or use the plates.
Touch to be surprised at the detailed color and texture
Scholten and Baijings produced this pale color based on a wide research of Arita porcelain.
The designers adopted interpreted Japanese traditional color, keeping the traditional pale and established coloring of Arita porcelain.
Unlike the traditional Arita porcelain, the S&B series do not have high stand or gorgeous decoration. The tableware is characterized by the simple and standard form for daily use at home worldwide.
The inherited skill of Japanese Arita porcelain makes it possible to produce the thin and uniform thick and toughness.
Everyone may be surprised to see the thinness of the mug and cup.
Same color but different texture of the Arita porcelain mug and cup
Different colors and forms.
In fact, even the same color mugs or cups, the texture and color is different in the S&B Colour Porcelain series of 1616/arita japan.
For example, please have a look at the pink mug and espresso cup in the pictures below.
The pink mug has coral pink line at the edge of mug. The inside has a gradation from the edge to the bottom.
On the other hand, the espresso cup is the two-tone of mat pale pink and glossy white. The inside is uniform pink.
The Japanese craftsmen produced this detailed color by air brush and masking tape. When you hold the mug or cup, you can feel the profundity of the expression and the detailed work of Arita porcelain.
Enjoy the color and texture of each mug and cup.
Related Products
Perfect gift with two pair cup of Arita porcelain
You can choose two favorite colors of mugs for a pair mugs.
Gentle color Arita ware is suitable for wedding gift or birthday present.
You can enjoy both hot and cold drink with this cute Arita porcelain mug and cup.
Of course, you can get one of the mugs or cups for your own.
We believe that this mellow color and beautiful form cup will relax you.
Please use the cup or mug daily. Both the mugs and cups become narrower from the edge to the bottom. So, you can pile them up when you store them.
Easy to coordinate cups and mugs of Japanese Arita porcelain
The S&B series of 1616/arita japan offer multiple cute colors.
If you cannot decide the colors, please purchase your favorite one!
Whichever you choose, you can easily make a stylish table coordinate.
This series is uniformed in pale tone. That is why you can be a great table coordinator.
Exclusive stylish box for a present
Would you like to present these modern and traditional Arita porcelain cup or mug?
We prepare a stylish exclusive box for pair cups or mugs.
You can purchase the exclusive purple box (sold separately) with mugs or cups.
When you order the mugs or cups with the box, we will ship you the cups or mugs within the box. Please note that we put buffer in the box to deliver the cups or mugs safely.
Color your table with the mug or cup of Arita porcelain
This cute color cup or mug of 1616/arita japan is suitable for hot coffee or cold soda pop.
Since this is thin and light, you can use it whenever you need.
For espresso cup, you can put yogurt, fruits, or small sweets as well as some drink.
How about serving some ice cream with the cup? it is so cute!!
Multiple pale color cup or mug can color your dinner table.
Find your original use for Arita porcelain cup or mug.
Caring tips
* You can use these products in microwave oven and dishwasher.
* Each mug or cup has different texture since all the products is handmade by craftsmen.
* The difference is not a flaw. We appreciate your understanding.
* All the products are handmade by traditional craftsmen. Please enjoy different perspective of each product.
Personalize gift service
For the bulk order more than 20 items, we can personalize your items with the name of your company, school, or with logomarks. If you plan to order corporate gifts or keepsake gifts, please contact us from "Contact us."
* Personalize gift needs service fee. The fee depends on items.
* Personalize service is not available for some products. Please feel free to ask us.