Japanese slate cheese board SUZURI
Stylish slate cheese board SUZURI
[Studio GALA]SUZURI
Our original set
Exclusive gift box
With Japanese description
With English description
Black stone plate, slate board for stylish dinner
Japanese slate cheese board from Studio Gala, a modern and Japanese traditional products brand.
This is a black slate cheese board SUZURI.
Recently, slate cheese board or slate plate have been popular due to the popularity of Brooklyn taste.
You know the popularity of this slate tableware in Europe or the United States of America. In fact, the high-quality stone plate has been used at first-class Japanese restaurants.
SUZURI is made of the Genshou-seki in Ogatsu, Miyagi prefecture in Japan. This slate cheese board is shaved from the Genshou-seki (slate in Japanese). Craftsmen handmade all the products.
You can feel the stone unique texture and the quality of handmade product.
Jet-black slate board can color the dish on it. Let us introduce the fascination of this black slate board.
Three-star class restaurant use SUZURI
Do you want to enjoy the stylish tableware like three-star restaurant use?
This is it!
Studio GALA offers beautiful black slate cheese board SUZURI. This slate plates is characterized by its smooth surface and the jet-black color.
High class restaurant and the suit in hotels use this high-quality slate board.
Related Products
How do you use this slate board?
This beautiful slate plate got favorable reputation from chefs.
What would you like to put on this slate plate? Only cheeses?
This simple and polished slate board SUZURI can make various types of cuisine stand out.
First, let's put breads, fruits, or various cheese. You will be surprised to see the complete of an art.
For large size slate plate, you can put some small bowls or plates on it.
Please produce your stylish dinner table by this slate cheese board.
Related Products
Black tableware makes food look delicious
It is said that black tableware makes food look delicious.
Black has a visual effect to make other colors stand out. So, please put colorful food like sashimi, cheese, or fruits.
You can make the dinner table like cafés or hotels.
Black slate board makes dinner elegant
Black gives us calmness, dignity, elegance, or modern air impression.
In addition to this effect, black can make other bright colors stand out.
Therefore, black slate plate can make the dish high-class and delicious.
Rare plate, shaved from stone
You can feel the texture of natural material and detailed work of craftsmen. The unique texture of slate make salad or sashimi look delicious.
If you put cool cuisine on the slate plate, please refrigerate the SUZURI beforehand. The plate can keep the cold of food.
High-quality slate, Genshou-seki
Slate have been used for a roof, or roads. The Louvre in France and the Tokyo station in Japan used slate as a roof. Slate has a composition of numerous thin layers. Therefore, it is easy to process to a board.
It is said that slate has the highest strength and durability among the natural materials we can get easily.
The name of this slate cheese board SUZURI is a tool on which Japanese people rub the ink stick to make Indian ink. Now, Japanese people use suzuri for calligraphy.
Ogatsu in Miyagi prefecture has been famous for a good producing area of slate. The slate produced in Ogatsu is Genshou-seki. Genshou-seki is a bluish black slate. When you split the stone along the grain, you can split into a thin board. The black color is from a carbonaceous material in the clay.
This slate cheese board SUZURI is all handmade by craftsmen of SUZURI.
No color transfer
If you hear that this slate plate uses same stone as SUZURI, you may worry about the color transfer into food. Never mind!
Since this is not a carbon or real SUZURI, the color will not transfer into the food.
Studio GALA
Studio GALA is a products brand established by a designer Ryouichi Kobayashi in 1982.
Mr. Kobayashi realized again the Japanese people 's view against seasonal change and the workings along the changing nature. He has researched the relation between Japanese people and matters for 30 years. And he produced a contemporary design appropriate for the season. The beautiful design and finishing embody the "modern" or "polish."
The products of Studio GALA have got an attention as a representative of Japanese modern design.

Studio GALA proposes high-quality Japanese goods for contemporary life with Japanese traditional materials or skill.
Ryouichi Kobayashi's career
Born in 1949. Graduated from the Faculty of craft and industrial design of Musashino Art University
2006 "KOYORI" selected as "Top 100 new Japan style"
2007 "Nihon-no Katachi (Japanese form)" Exhibition at Frankfurt Museum of Applied Arts (Germany)
2008 "Studio GALA Collection" AXIS / LIVING MOTIF (Japan)
2009 "Studio GALA Collection" CLASKA (Japan)
2010 "Katachi" Exhibition Bauhaus Museum (Germany)
"Aesthetics of Taste" Exhibition at Triennale de Milan (Italy)
High-quality table coordinate
The products of Studio GALA is quite simple. The products realize the fusion of function and design.
Traditional material and skill used in this slate cheese board is along with Japanese climate and life. The contemporary use and design merge with the traditional material and skill. Then, this modern and traditional slate plate is born.
You can feel the spirits of "Japanese modern design" through the products of Studio GALA.
Please enjoy this slate board to make a high-quality table coordinate.
Of course, the types of cuisine are totally up to you!
Exclusive gift box
SUZURI will arrive at your house within an exclusive box. The box is elegant so you can send it as a gift.
We have black, gray, and blue box.
* The color of exclusive boxes depends on the arrival date of items. Please note that you cannot choose the color of the box.
Nice gift
This beautiful slate board SUZIRI is a nice gift for someone likes cooking.
In addition, the slate plate can be a basket of fruits or breads. So, also a good present for someone likes interior goods.
For sake lovers
SUZURI can decorates the table with sake cups or teapots.
We offer our original set "FUJIYAMA set. Reproduce the solemn Mt. Fuji on the table." This is a set of rectangle slate board and Fujiyama tin cup of Nousaku. The stylish set is suitable gift for sake lovers.
Within Japan Design Store original gift box
Original gift sets are within our original gift boxes. Our original gift box has gentle ivory color like Japanese paper. A gold logo mark is on the box as an accent.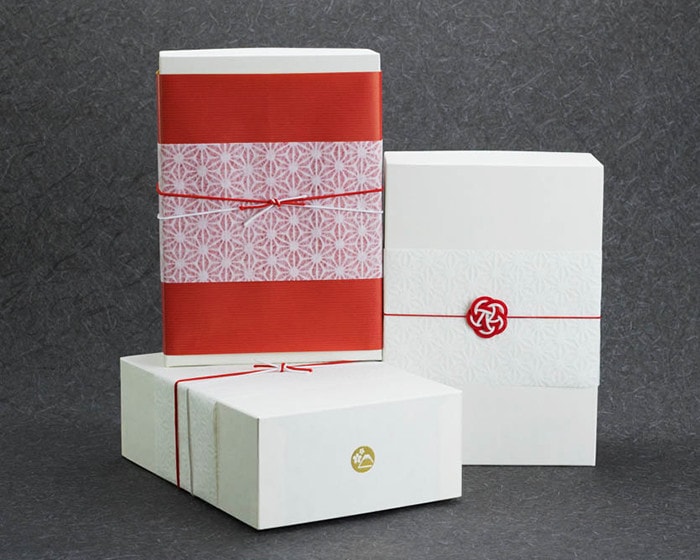 Related Products
Caring tips
* The pattern is different from each other due to the natural material.
* Please rub with an eraser when you see an abrasion on the surface.
* The color may change when you put too storing acidic food.
* All the products are handmade by traditional craftsmen. Please enjoy different perspective of each product.
Personalize gift service
For the bulk order more than 20 items, we can personalize your items with the name of your company, school, or with logomarks. If you plan to order corporate gifts or keepsake gifts, please contact us from "Contact us."
* Personalize gift needs service fee. The fee depends on items.
* Personalize service is not available for some products. Please feel free to ask us.