Masu sake with Cute Wooden sake cups from Masuda Kiribako
Home Izakaya with Cute Wooden Sake Cups "Fuku Masu Masu"
[Masuda Kiribako]Fuku Masu Masu
Our original set
Exclusive gift box
With Japanese description
With English description
Fuku Masu Masu invites more happiness
"Fuku Masu Masu" is cute wooden sake cup from Masuda Kiribako.
Fuku means good fortune or happiness. Masu is square wooden sake cup. Also, Masu means increase. Therefore, "Fuku Masu Masu" is a wooden sake cup that invites us good fortune.
How about enjoying Masu sake with cute wooden sake cups like Izakaya?
Izakaya is a Japanese style bar. When we order Japanese sake in Izakaya, they serve it with various tableware such as sake bottle and ochoko, small glass or wine glass. Among them, Masu sake is coolest. In Masu sake style, Japanese sake is served in a glass in a wooden sake cup. It is a beautiful and exciting scenery for all sake lovers.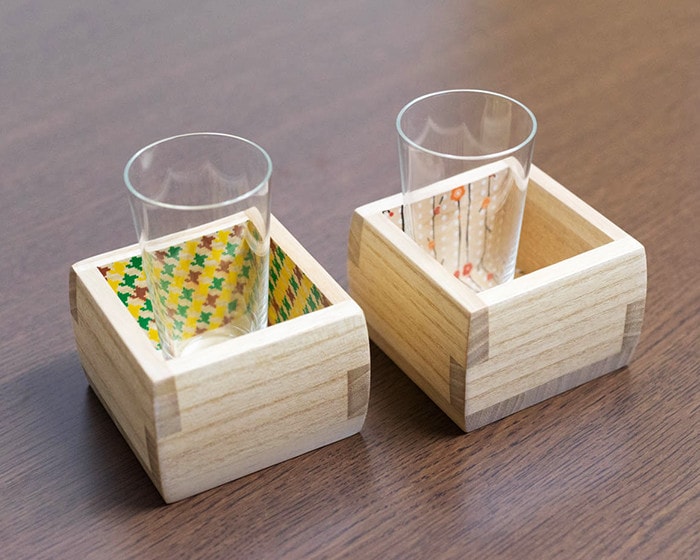 When you serve Japanese sake in Masu sake style, usual sake becomes a special one. With Fuku Masu Masu from Masuda Kiribako, you can enjoy izakaya dining at your home every day.
Smell of wood of masu, aroma of Japanese sake, and delicious snacks. What a happy time! We recommend stylish wooden sake cups for all sake lovers.
Cute and traditional wooden sake cups would be great rewards for yourself and wonderful gifts for sake lovers.
How to drink Masu sake?
Masu sake is served in wooden sake cup and glass. Both glass and Masu is filled with Japanese sake.
We also call this style "Mokkiri." In the old days, izakaya serves sake in 1 gou (about 180ml). However, small glasses cannot contain full of 1 gou. So, they start to serve sake in a glass within wooden sake cup or small plate so that they can serve full sake of 1 gou.
When you see Masu sake at first time, you are surprised and confused how to drink it. Never mind. Every way of drink is okay. Mokkiri is a service from Izakaya so that customer can enjoy sake more. So, just drink and enjoy Masu sake happily and deliciously!
If you would like to drink Masu sake smartly, we recommend the following way.
An example of how to drink Masu sake
①First, drink sake in glass
②Leave glass from wooden sake cup
③If a glass has enough room for remaining sake in Masu, pour sake from Masu to glass and drink it

It is also okay to drink directly from wooden sake cup after drinking some sake in a glass. When you leave glass from wooden sake cup, wipe the bottom with Oshibori (hot or cold hand towel).
You can enjoy great smell of wood when you drink Japanese sake in wooden sake cup. Of course, you can enjoy sake in Fuku Masu Masu.
Cute 4 patterns of Fuku Masu Masu
Craftsmen use a unique skill "Tsunagi print" of Masuda Kiribako for Fuku Masu Masu. Tsunagi means continuous. The patterns inside the wooden sake cups are continuous from side to side or bottom to side. Stylish patterns look more beautifully when you pour Japanese sake.
Masuda Kiribako offers 4 patterns of Fuku Masu Masu. Enjoy sake with Japanese patterns of seasons, auspicious items or historic tools.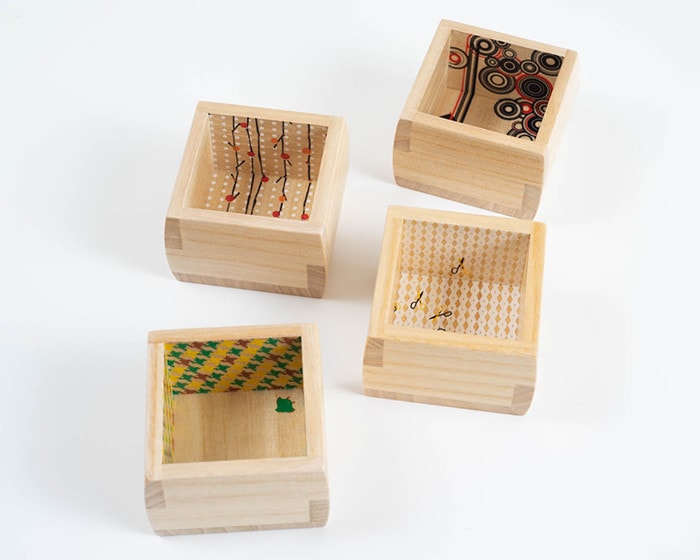 Fuku Masu Masu [Ume]

Inside wooden sake cups, cute flower of Ume (plum tree) bloom. Japanese people have loved Ume as an auspicious motif of "longevity", "rich life" or "joy." Over the white polka dots, orange and red plum flower blooms lively. It looks like flowers tell us the coming of spring in snow. Also, Ume is the flower of Fukuoka prefecture where is the place of atelier of Masuda Kiribako.

Fuku Masu Masu [Uguisu]

We can see a blossom of Ume and an Uguisu, Japanese bush warbler in wooden sake cups. "Ume and Uguisu" has been used as an example of two good combination or two suitable and harmonized things. The patterns on 4 sides are called "Chidori Koushi." A diamond-look mark expressed a bird. So, Chidori Koushi is thousands of birds. In addition, Japanese bush warbler is the bird of Fukuoka prefecture.

Fuku Masu Masu [Hakata Hasami]

On the wooden sake cups, daily necessities are designed in stylish way. Hakata Hasami means scissors of Hakata. It was introduced from China 700 years ago. It is said that Hakata Hasami is the first scissors in Japan. White diamonds make Hakata Hasami looks more stylish.

Fuku Masu Masu [Hakata Koma]

Many circles on the wooden sake cups are design of Hakata Koma. Koma means spinning tops. Hakata Koma is the origination of top trick. It has long history of about 450 years. Red and black "Koma Suji" which is the state of spinning tops gives cool atmosphere. Your sake time becomes more stylish with this wooden sake cup.
Fuku Masu Masu has cute rounded form
Fuku Masu Masu from Masuda Kiribako is different from other general wooden sake cups. In addition to cute print, please look the form of Masu. It is rounded. Fuku Masu Masu is a modern wooden sake cup for our lifestyle. Rounded form Masu suits our hand comfortably.
Easy to care! Waterproof finish
"How should I care wooden sake cups?"
You may worry about this. However, Fuku Masu Masu is a gentle sake cup for Masu beginners. Fuku Masu Masu is coated with urethane. So, it is waterproof. After using, just clean and dry wooden sake cups as same as general tableware.
Japanese wooden sake cups can be used as measure of rice
Fuku Masu Masu is a cup of 1 gou, 1 Japanese rice cup.
So, you can use wooden sake to measure rice as well. If a cute Masu is in your rice storage box, cooking time becomes happier. Also, Masu is made of paulownia. Paulownia includes insect repellent components such as sesamine. So, wooden sake cup can be an insect repellent.
Wooden sake cups are good for confectioneries, too
When you have guests, how about serving confectioneries in the cute wooden sake cups? Small candies or chocolates become cuter in cute Masu. In addition, you can use wooden sake cups as small bowl for dishes.
In Japan, we put roasted soy beans in Masu and throw them away to drive out evils in February 3rd (Setsubun.)
Furthermore, Fuku Masu Masu can be cute box for stationeries. Cute wooden sake cups become home decor as they are.
Wooden sake cups for auspicious gifts
Wooden sake cups are auspicious items in Japan. We see Masu in parties or ceremonies. In some celebrating situation, Japanese people prepare a lot of Japanese sake in a big barrel and open the lid with wooden hammer. We call it "Kagami Wari." We share the sake to celebrate each other.
Why Masu is auspicious?
Masu is a tool to measure grains or liquid. In addition, it has been used as a tableware for offerings such as rice, rice cake, or beans to God. Wooden sake cups are the tableware for important items. In addition, Masu reminds us "Masu," which means increase. Therefore, Japanese people have loved Masu as an auspicious item.
Wooden sake cup is a motif of "increasing happiness", "good business" and "prosperity." Masu would be great wedding gifts, longevity gifts or celebrate one's new business. As gifts, we recommend our original Masu sake set as well.
Related Products
Send wooden sake cups as gifts? Leave it to Japan Design Store
If you would like to send cute wooden sake cups "Fuku Masu Masu" as gifts, leave it to Japan Design Store. We offer stylish gift wrappings. You can choose Japanese traditional wrapping Noshi, too.
Fuku Masu Masu is filled with Japanese culture and craftsmanship. So, it is good gifts for friends or family members in other countries. Our staff wrap it carefully.
Caring tips
* All the products are handmade by traditional craftsmen. Please enjoy different individualities of each product.
Personalize gift service
For the bulk order more than 20 items, we can personalize your items with the name of your company, school, or with logomarks. If you plan to order corporate gifts or keepsake gifts, please contact us from "Contact us."
* Personalize gift needs service fee. The fee depends on items.
* Personalize service is not available for some products. Please feel free to ask us.