Japanese Fan for Men! Fan Made of Okayama Denim
[NISHIKAWA SHOUROKU SHOTEN] Japanese fan made of Okayama denim
Our original set
Exclusive gift box
With Japanese description
With English description
For All Denim Lovers! Japanese Fan Made of Okayama Denim
"Okayama denim", "Red selvedge", "Selvedge", "Non-wash."
If these words remind you something, we recommend you
"Okayama Denim Fan" from Nishikawa Shouroku.
Beautiful indigo blue Japanese fan comes from Kurashiki.
Enjoy sophisticated but casual atmosphere.
Make denim lovers oohing and aahing! New Japanese fan
Non-wash deep indigo blue with red selvedge.
If you get excited with this word "Okayama selvedge denim", you are denim lovers.
If you look for fashion items to make difference, how about "Okayama denim fan"?
New arrival from Nishikawa Shouroku shouten is cool Japanese fan made of Japanese selvedge denim from Okayama.
Contrast of Denim × Japanese traditional crafts tickle playful mind of adults.
"Okayama denim fan" can add unique touch to jacket fashion.
Also, casual Japanese fan work when you go camping, trekking, or shopping.
Stylish Japanese denim fan provides good relax for adults. It is good gift for men.
Globally recognized quality "Okayama denim"
Where do you think is the "mecca of jeans or denim"?
Unites States since there are a lot of famous brands? Or Italy?
NO. In fact, the mecca for world jeans lover is "Kurashiki city of Okayama prefecture."
Many people are particular about denim or jeans.

Famous denim brands have been popular such as Levi's, DIESEL, JACOB COHEN. However, "Okayama denim" especially gets attention from denim lovers. Okayama denim is a Japanese denim made in Kurashiki city of Okayama prefecture.
Kojima area in Kurashiki city of Okayama prefecture comes to life with new establishment of brands. The origination of Japanese denim is a mecca of denim lovers now. In fact, not only Japan but also people around the world visit Kurashiki to get high-quality made in Japan denim or jeans. 200 thousand of people visit Kurashiki per year.
In addition, Kojima area of Kurashiki city is the origination area of Japanese denim brand "BIG JOHN."
Attractiveness of Okayama denim is, above all, its high quality.
Only denim or jeans that fulfill all standards designated by "Federation of Cooperatives of Okayama Denim" can call their products as "Okayama denim."
For Okayama denim, most manufacturing processes to produce denim such as "dye", "weave", "sewing" are done by skilled craftsmen around Okayama. Thorough quality control and skills of craftsmen produce high quality denim.
Okayama denim get orders for production or processing from high fashion brands such as CHANEL, HERMES, or Christian Dior.
Must-see for denim lovers! Red selvedge
We can see red stitches at the edge of this Japanese fan made of Okayama denim.
As a design, this red stitch makes good accent. But for denim lovers, you recognized what it is soon.
YES. This "Okayama denim fan" is made of "selvedge denim". It must be preferable for vintage jeans lovers as well.
What is selvedge denim?
Selvedge refers to edges of denim fabric. Selvedge denim are woven by shuttle loom. The edges are finished to ensure the denim fabric does not fray, curl, or unravel.
What is red selvedge?
Red selvedge, in Japanese "Aka mimi" has red stripes as ensure denim fabrics. Red stripes are most common.
Selvedge denim is woven by shuttle loom. It is about 80cm (about 32 inches) width which is almost a half of standard width of denim woven by modern machine. It takes much time to weave denim fabric for 1 denim. Therefore, selvedge jeans tend to expensive. Nevertheless, carefully woven denim fabric of Japanese selvedge denim is popular.
Denim from "Japan Blue", a brand of Okayama denim
Japanese fan "Okayama denim fan" from Nishikawa Shouroku is made of denim from an Okayama denim brand "Japan Blue."
Philosophy of "Japan Blue" is "make jeans = make fabrics." They devote Japanese craftsmanship to all processes, select of cotton, spinning, dye, weaving.
For weaving of denim, Japan Blue uses shuttle loom because it can weave slowly and cause less damage for threads. Denim woven by shuttle loom keeps characteristic of cotton, fit our body, and realize natural and beautiful color loss.
Now, we cannot get shuttle loom anymore. So, "Japan Blue" carefully use automatic loom from "TOYODA" with repair and take time to weave denim with craftsmen. Only slowly woven denim of "Japan blue" has this delicate unevenness. Beautiful indigo blue attracts us.
Big size! Presence of wide sticks
So far, we have paid attention to denim fabric of Japanese fan. Now, please look at sticks of fan! Okayama denim fan is one of the masterpieces from Nishikawa Shouroku where is good at producing stylish Japanese fan. The sticks of fan are so cool.
When you have this Japanese denim fan, you will realize that this is bigger than usual folding fans. Okayama denim fan is 8 sun (about 24cm, or about 9.4 inches)! Generally, Japanese fans are about 22cm (about 8.7 inches). In addition to size, the sticks are wide, so it has solid presence.
Refined Japanese fan suits well with big hand of men. It upgrades men's fashion.
On the guard of Japanese fan, a silver logo plate shine. It provides elegant atmosphere.
There is a ring on rivet to put accessories. So, you can customize Japanese denim fan on your way.
On guard of this Japanese fan, brand name "Nishikawa Shouroku shouten (西川庄六商店)" and "Made in Japan" are engraved.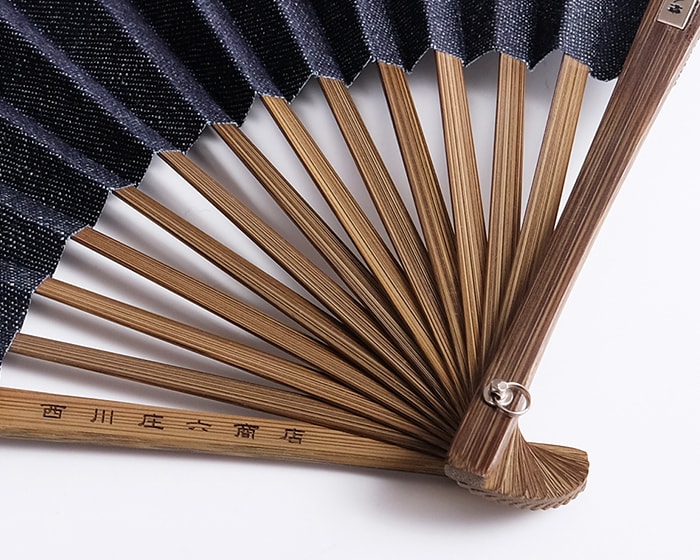 Casual design suitable for various fashion
Japanese fan "Okayama denim fan" can be used for everyone regardless of generations. Japanese hand fans are good with kimono. However, Japanese denim fan is good with any types of clothes.
8-ounce Denim has solid tension and it makes us feel sophisticated casual atmosphere. Modern Japanese denim fan can be good accent for jacket fashion.
Also, Japanese folding fan made of Okayama denim is tough. So, you can bring it to outdoor events such as camp, live concert, or firework festival. Take out Okayama denim fan from your pocket or bag and cool yourself anywhere.
Useful fan pouch for carry
For Okayama denim fan from, Nishikawa Shouroku, original fan pouch is set. Of course, this pouch is made of denim fabric.
What is Nishikawa Shouroku Shouten?
Nishikawa Shouroku shouten was established in 1585. It is a historical shop in Omi Hachiman city of Shiga prefecture. Nishikawa Shouroku shouten is a select shop for 430 years. It inherits the soul of "Omi merchants." Omi merchants are merchants who raise their motto as "Sanpo Yoshi" which means benefit for all three sides. Here, three sides mean seller, buyer, and public. Omi merchants have introduced "good items" from all around Japan.
Now, Nishikawa Shouroku shouten proposes "good items" which remains Japan nowadays for modern lifestyle. They deploy new products with priority given to Japanese fans.
Okayama denim fan is recommended gifts for men
Japanese denim fan from Nishikawa Shouroku would be great gifts for men. Okayama denim fan is within brand original paulownia box with gold brand name.
It is difficult to send jeans for denim lovers. However, Japanese denim fan can be sent without this care. Anyone can use Japanese selvedge denim fan in their fashion.
"Wow, red selvedge! It is Japanese selvedge denim, isn't it?" Denim lover may recognize its quality.
As gifts for your important man, how about Japanese crafts? Wallet or watch from famous brand is good. But Japanese crafts have also great quality.
We recommend Okayama denim fan as gifts for your husband, boss, co-worker or friend. It would be great gifts for the Father's Day as well. Stylish Japanese fan can tell message that "please enjoy going out or event."
Gift wrapping of Japan Design Store for your important gift
If you send Okayama denim fan from Nishikawa Shouroku, we recommend our gift wrapping. Japan Design Store always wait for you with stylish Japanese gift wrapping. You can choose Noshi wrapping as well. Elegant Easy wrapping and cute Ume Mizuhiki option have been popular.
Japanese denim fan for your holidays
"Japanese fan with denim?"
Everyone is surprised at this unique combination.
Okayama denim fan is made of Japanese selvedge denim. However, you can open and close fan neatly. It is the traditional technique of craftsmen. Solid weight is comfortable.
Modern Japanese denim fan looks stylish even you use it dynamically. If I find a man using this Japanese fan, I might address him. For your own reward or gifts for your important person, please select this Japanese fan!
Amazing idea of denim × Japanese fan
Nishikawa Shouroku shouten has a reputation for their stylish and useful products. Okayama denim fan joined our shop from Nishikawa. Nowadays, we can see denim kimono. Denim is spread in the world of kimono. This Japanese denim fan suits well for both kimono or casual clothes.
For kimono, simple and modern Okayama denim fan makes accent. For casual fashion like jeans and T-shirt, it provides cool atmosphere.
A staff of Nishikawa Shouroku introduced this Okayama denim fan for me. He said that "this Japanese fan is red selvedge denim!" I was not able to understand "what is red selvedge?" But I found the difference between this denim and my denim on its edge.
Red selvedge denim cannot be mass-produced. I would like to recommend Okayama denim fan for denim lovers, and those who are particular in details.
Like Okayama denim fan? How about this?
If you like Okayama denim fan from Nishikawa Shouroku, we recommend you "Dai-furyo fan" from Nishikawa. This Japanese fan is also big size as 8-sun. Firm and bright paper fan has chic atmosphere.
Cautions
* All the products are handmade by traditional craftsmen. Please enjoy different individualities of each product.
* Sticks or leaf may lose color by rain, sweat, or friction. Also, please be careful of getting injury when sticks or guards broken.
Personalize gift service
For the bulk order more than 20 items, we can personalize your items with the name of your company, school, or with logomarks. If you plan to order corporate gifts or keepsake gifts, please contact us from "Contact us."
* Personalize gift needs service fee. The fee depends on items.
* Personalize service is not available for some products. Please feel free to ask us.