[Set] [Exclusive box] Suzugami 18cm & JAPAN OF CUTLERY -Version Ⅰ-
Stock status

Available for reserve
Due date for dispatch

2022-09-10
Easy order, Ship soon
Payment

Paypal

* Available Credit Card is depend on customer's Paypal account policy.
Please check your Paypal account pilicy for your choiced card.
More Information
size
Differs depending on the item
weight (g)
1353.0000
notes
Differs depending on the item
remarks
* Tin is very soft metal. If you use table knife or fork on suzugami, the plate may get damage.
[Suzugami] It is said that tin has antibacterial effect. You can use it as tableware. 100% pure tin is so soft that you can bend it and change its forms easily with your hand. After bending, you can straighten suzugami on the flat table. We sell wooden roller "Koro" especially for bending and straightening suzugami. Wash with soft cloth or sponge with ph.-balanced detergent after use. When the gloss has become dull, please polish the products using a commercially-available metal polish, toothpaste or baking soda. The gloss will return with them. Do not rub with a hard scrubbing brush or polishing with the cleanser. 
[Cutlery] Do not use other than applications. Be careful when handing so as not to hurt your hands or finger because it is cutlery. Do not point to a person the cutlery. Do not cut the hard stuff. Unreasonable usage may damage the blade or other damages of products. Wipe off with a dry cloth when it is wet with water or any other liquid. Handles of Japanese cutleries are made of plain wood. To make the most use of natural taste, they are waxed. However, if you leave the handles in wet for a long time, the place may become stain. Do not place near fire. Handles may get burnt or transform.
Short Description
【SALE】Over-stock sale! You can get this item at discounted price now! No inferior points. You can even send it as gifts. (We do not include any documents with price.)
* We CANNOT accept any cancel, return, or exchange of this product.

【[Set] Suzugami 18cm & JAPAN OF CUTLERY -Version Ⅰ-】This is a set of a Suzugami 18cm and a Japanese cutlery set includes table knife, fork and spoon. Our popular tableware and cutlery provide gorgeous atmosphere on your dinner table. Suzugami from "syouryu" is a tin plate. You can make your favorite shape by bending.
JAPAN OF CUTLERY has Japanese modern atmosphere. Table knife is produced by Seki Kanetsugu in Seki city of Gifu prefecture. Fork and spoon are produced by Tsubame Bussan in Tsubame city of Niigata prefecture. Sharp table knife is made with skill of making Japanese katana. It does not damage the cells of food when it cut food. Japanese cutlery has got attention from the world now. Great gifts for a gourmet.
Related Products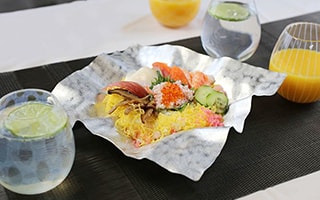 syouryu
Flexible dish "Suzugami" has attracted attention. Since 1909 its inception, the production specializes in phosphorus for the temple. This brand has produced a product that takes advantage of "tapping a hammer" technology.
パルデザインスタジオ has related articles