Sushi Party Set / Kazahana
Stock status

Available for reserve
Due date for dispatch

2024-01-15
Easy order, Ship soon
Payment

Paypal

* Available Credit Card is depend on customer's Paypal account policy.
Please check your Paypal account pilicy for your choiced card.
More Information
size
Differs depending on the item
weight (g)
1879.0000
notes
Differs depending on the item
remarks
【Set contents】 7 items: Suzugami 24cm Kazahana (x1) / Glasses of Taisho Roman glass series (x4) [Ichimatsu (x1) / Tokusa (x1) / Clear (x1) / Mizutama (x1)] / Soy sauce cruet Ichimatsu (x1) / Large koro (×1)
Large koro is a present from us. You can have a party as soon as the arrival of this set.
Short Description
【Sushi Party Set / Kazahana】This product is a set for enjoying sushi party with 4 people. With Suzugami, soba choko glasses and soy sauce glasses, you can make a stylish Sushi party!
* This set has suzugami of "Kazahana."
Related Products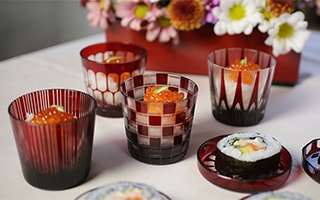 Hirota Glass
Continued from 1899, it is a long-established glass studio of Tokyo Kinshicho. Glasswork by skilled craftsmen. Mind is peace just looking at the product.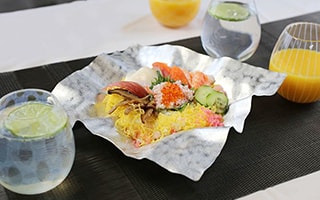 syouryu
Flexible dish "Suzugami" has attracted attention. Since 1909 its inception, the production specializes in phosphorus for the temple. This brand has produced a product that takes advantage of "tapping a hammer" technology.
Related Posts