[Set] Stylish Soba choko set / Arare + Youraku / Suzugami ×2
Stock status

Available for reserve
Due date for dispatch

2024-06-24
Easy order, Ship soon
Payment

Paypal

* Available Credit Card is depend on customer's Paypal account policy.
Please check your Paypal account pilicy for your choiced card.
More Information
size
Differs depending on the item
weight (g)
498.0000
notes
Differs depending on the item
remarks
【Set contents】 4 items : Inban-Soba choko (×2) [Arare (×1) / Youraku (×1)] / Suzugami (×2) * Our staff select the patterns of Suzugami
All the products are handmade by traditional craftsmen. Each cup has different shades of colors, blurs or lack of patterns. Please enjoy different individualities of each product.
Short Description
【[Set] Stylish Soba choko set/ Arare + Youraku / Suzugami ×2】This is a set of 2 soba choko (Arare + Youraku) + 2 Suzugami. This is a best set for eating soba. You can put sauce for soba into soba choko cups, and seasonings on Suzugami. In addition, this set works when you eat dessert. How about putting ice cream into soba choko cups, and some fruits on suzugami? The use way is totally up to you! How do you use this traditional set?
* If you would like to designate the pattern of suzugami, please tell us in "Other Inquiry" when you order. Otherwise, we will decide the patterns.
Related Products

azmaya
Azmaya is a producing brand. Azmaya collaborates with many Japanese traditional ateliers or designers to create Japanese modern products. The popular items are Inban series. Beautiful porcelain with white and blue colors. Also, their Nanbu tetsubin is famous for its design and function.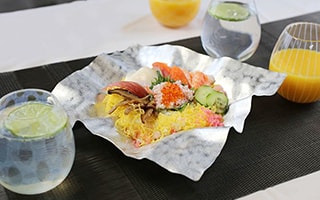 syouryu
Flexible dish "Suzugami" has attracted attention. Since 1909 its inception, the production specializes in phosphorus for the temple. This brand has produced a product that takes advantage of "tapping a hammer" technology.
Related Posts