Suzugami / 24cm / Kazahana / syouryu
Stock status

Available for reserve
Due date for dispatch

2024-01-31
Easy order, Ship soon
Payment

Paypal

* Available Credit Card is depend on customer's Paypal account policy.
Please check your Paypal account pilicy for your choiced card.
More Information

| | |
| --- | --- |
| size | D240-W240mm |
| weight (g) | 458.0000 |
| notes | oven, freezer, microwave, dishwasher cannot be used. |
| remarks | It is said that tin has antibacterial effect. You can use it as tableware. 100% pure tin is so soft that you can bend it and change its forms easily with your hand. After bending, you can straighten suzugami on the flat table. We sell wooden roller "Koro" especially for bending and straightening suzugami. Wash with soft cloth or sponge with ph.-balanced detergent after use. When the gloss has become dull, please polish the products using a commercially-available metal polish, toothpaste or baking soda. The gloss will return with them. Please do not rub with a hard scrubbing brush or polishing with the cleanser.  |
| Short Description | 【Suzugami / 24cm / Kazahana】 Suzugami is a soft plate made of tin. This plate can change into various forms. For example, you can change this plate into not only the tableware, but also an accessories tray or a vase. 24cm plate is the biggest size. You can put large amount of food such as noodles or sushi. Enjoy your dinner time with suzugami. |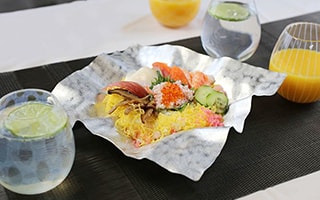 syouryu
Flexible dish "Suzugami" has attracted attention. Since 1909 its inception, the production specializes in phosphorus for the temple. This brand has produced a product that takes advantage of "tapping a hammer" technology.
Related Posts