[Set] [Paulownia box] Pair FUJI WAN / Red & Light Blue / Floyd
Stock status

2
Shipping Date

We will ship your order within a week.
Easy order, Ship soon
Payment

Paypal

* Available Credit Card is depend on customer's Paypal account policy.
Please check your Paypal account pilicy for your choiced card.
More Information
size
Him(大)φ135×H55mm _x000d_ Her(小)φ120×H50mm _x000d_ BOX : W158×D158×H80mm
weight (g)
430.0000
notes
oven, freezer cannot be used.
remarks
【Set contents】2 items: FUJI WAN (×2) [Red (×1) / Light Blue (×1)]
All the products are handmade by traditional craftsmen. Each item is different from each other in sizes or colors. Please enjoy different individualities of each product. When you use microwave, dishwasher or dish dryer, please follow the directions and cautions of each machine.
Short Description
【[Set] [Paulownia box] Pair FUJI WAN / Red & Light Blue】This is pair rice bowls of FUJI WAN Red & Light Blue. Ceramic rice bowls are likened to Fujiyama. The contrast of light blue and white express the color of the foot and the top of Fujiyama. All rice bowls have different contrast, just like Fujiyama shows different expression every day. All FUJIWAN rice bowl is handmade by craftsmen of Hasami porcelain. That is why all rice bowls have different face. In the box, the rice bowls are surrounded by white cotton like a sea of cloud. This Fujiyama rice bowl was selected by MoMA (Museum of Modern Art) in New York.
Unique, traditional, and stylish set would be suitable for wedding gifts or housewarming gifts.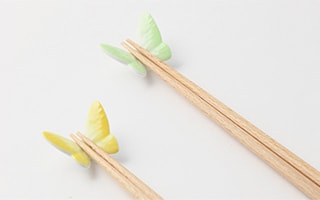 Floyd
Floyd states its mission as "To deliver emotion, surprise, and smile to people." Their products have great design with playful mind. Floyd offers various suitable items for gifts.
Related Posts