[Handkerchief wrapping] Butterfly 2 pairs / Chopsticks set / Green & Yellow / Floyd
Stock status

1
Shipping Date

We will ship your order within a week.
Easy order, Ship soon
Payment

Paypal

* Available Credit Card is depend on customer's Paypal account policy.
Please check your Paypal account pilicy for your choiced card.
More Information
size
アイテムにより異なります
weight (g)
185.0000
notes
アイテムにより異なります
remarks
All the products are handmade by traditional craftsmen. Each item is different in sizes or shades of colors. Please enjoy different individualities of each product. When you use microwave, oven, dishwasher or dish dryer, please follow the directions and cautions of each machine.
[Handkerchief] Before the first use, remove the starch on the cloth with lukewarm water, and wash it in laundry net. Kaya (mosquito netting) will shrink in 3~5cm after the first washing. Also, the handkerchief may shrink or lose colors slightly. Hot water or sterilization by boiling SAFE. Be careful of getting scalded. NOT breach safe.
Short Description
【[Handkerchief wrapping] Butterfly 2 pairs / Green & Yellow】This is Butterfly 2 pairs Green & Yellow. Butterfly is the symbol of happiness in Japan. Butterfly chopstick rests are colored by craftsmen in Seto city of Aichi prefecture. The octagon chopsticks are made of beech. Craftsmen in Wakasa city of Fukui prefecture shave each chopstick carefully. Cute and traditional design chopsticks set would be suitable item for wedding gifts or housewarming gifts for couples.
* For the "Handkerchief wrapping" series, you can change the color of handkerchief into your favorite color. This chopsticks set is set with Green. In addition, we have White / Yellow / Blue / Red (Dark pink). If you would like to change the color, please mention your demand at "Other Inquiry" when you place order. Please note that if you change the color of Handkerchief, the "Shipping Date" stated above may change as well. On the gift wrapping image, the left one is with "Easy wrapping" and the right one is with "Wrapping paper & Japanese Ume-Mizuhiki."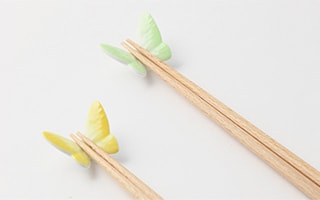 Floyd
Floyd states its mission as "To deliver emotion, surprise, and smile to people." Their products have great design with playful mind. Floyd offers various suitable items for gifts.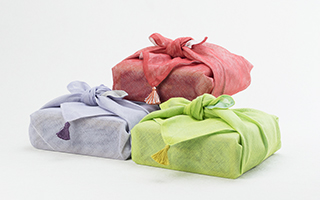 WDH
WDH suggests a high-quality lifestyle generated by the manufacture with Japanese traditional skills. You can enjoy the change of their original items over the years. Beautiful items deepen the depth of your life.