[Set] [Exclusive box] Glossy hand drip set / L'ambre pot & Caffe hat / White
Stock status

Available for reserve
Due date for dispatch

2023-11-07
Easy order, Ship soon
Payment

Paypal

* Available Credit Card is depend on customer's Paypal account policy.
Please check your Paypal account pilicy for your choiced card.
More Information
size
Differs depending on the item
weight (g)
1700.0000
notes
Differs depending on the item
remarks
All products are handmade by traditional craftsmen. Please enjoy different individualities of each product. [Caffe hat] Please note that you CANNOT use detergent since the micro halls of the ceramics absorb the ingredients of detergent. Just wash the ceramic pour over cone with water or warm water. When you feel the smell of stale coffee or the filter is clogged up, grill over the dripper over open fire or in toaster oven. After heating, please do not cool it down rapidly. Rapid temperature change may cause damage or breakage of the item.
[L'ambre pot] Enamelware have some places where glassy glaze is not fully covered. Those places are spout, backside of lid or edges. Also, strong impact or dropping may cause the appearance of iron from the damage of glassy surface. Boiling the teapot dry is dangerous. By any chance you boil the enamel teapot dry, do not cool the pot rapidly. Wait for it cool down naturally. The volume of the teapot is full volume. To avoid boiling over, we recommend boiling 70% of the indicated volume. L'ambre pot is not induction cooktop safe. Kraft boxes for kettles or teapots are just boxes to protect products during delivery. Please note that damages on kraft boxes are not covered by our exchange or return policy. We do appreciate your kind understanding.
Short Description
【[Set] Glossy hand drip set / L'ambre pot & Caffe hat / White】This is "Glossy hand drip set / L'ambre pot & Caffe hat / White."
We make a set with ceramic pour over cone "Caffe hat" White from 224 porcelain and enamel pour over kettle "L'ambre pot" White from Noda Horo. It is a best set for coffee lovers.
Caffe hat is a coffee filter made by ceramic. The coaster supporting a coffee filter is a design of a pretty clover. You can always confirm quantity of the coffee which you poured into a mug cup by using this coaster. If this filter is clogged, please warm it by fire till smoke appears.
This pour over kettle is produced to meet request from a famous café "Café de l'ambre" in Ginza. To make a spout that we can pour water like dripping drops of water. It has been a long selling item for coffee lovers for a long time. It is popular for those who pursuit coffee brewing or who love cute and retro kitchenware.
Enjoy delicious coffee with stylish hand drip set. Good gifts for coffee lovers.
224 porcelain
224 porcelain is a ceramic brand based on Hizen Yoshida ware. Hizen Yoshida porcelain is a craft in Saga prefecture. With the originalities of designers, they produce items with playful mind and usability.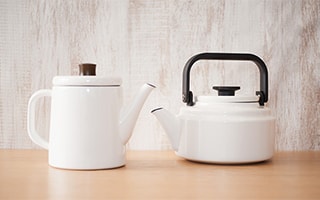 Noda Horo
Noda Horo is famous for its enamel kitchenware such as kettles or stockers. Enamelware does not change the taste of food. And enamelware is hygiene. We collect daily use items for everyone.