L'ambre pot / White / Noda Horo
Stock status

3
Shipping Date

We will ship your order within a week.
Easy order, Ship soon
Payment

Paypal

* Available Credit Card is depend on customer's Paypal account policy.
Please check your Paypal account pilicy for your choiced card.
More Information
size
約23.9×14.1×21.5cm 容量:1.7L 外箱:235×140×212mm
weight (g)
980.0000
notes
oven, freezer, microwave, dishwasher cannot be used.
remarks
* Make sure to check the situation of the items stated above. We cannot accept return or exchange of sale items.
All the items are produced by craftsmen. Each item has different individualities in glaze. Enamelware have some places where glassy glaze is not fully covered. Those places are spout, backside of lid or edges. Also, strong impact or dropping may cause the appearance of iron from the damage of glassy surface. Boiling the teapot dry is dangerous. By any chance you boil the enamel teapot dry, do not cool the pot rapidly. Wait for it cool down naturally. The volume of the teapot is full volume. To avoid boiling over, we recommend boiling 70% of the indicated volume. L'ambre pot is not induction cooktop safe.
Short Description
【L'ambre pot / White】This is "L'ambre pot (1.7L)" White. This pour over kettle is produced to meet request from a famous café "Café de l'ambre" in Ginza. To make a spout that we can pour water like dripping drops of water. It has been a long selling item for coffee lovers for a long time. Also, stylish coffee kettle is popular for those who pursuit coffee brewing or who love cute and retro kitchenware. Cute enamel pour over kettle would be great wedding gifts or housewarming gifts.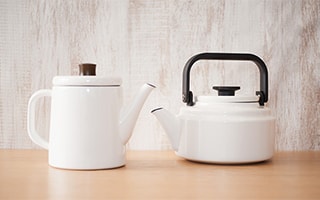 Noda Horo
Noda Horo is famous for its enamel kitchenware such as kettles or stockers. Enamelware does not change the taste of food. And enamelware is hygiene. We collect daily use items for everyone.