[Wooden box] Eternal Glass / Old fashioned glass f / Titanium coated / Wired Beans
Stock status

Available for reserve
Due date for dispatch

2022-05-18
Easy order, Ship soon
Payment

Paypal

* Available Credit Card is depend on customer's Paypal account policy.
Please check your Paypal account pilicy for your choiced card.
More Information
size
φ103mm×H90mm_x000d_ 容量:約300ml 重さ:約350g
weight (g)
520.0000
notes
oven, freezer, microwave, dishwasher cannot be used.
remarks
All the products are handmade by traditional craftsmen. Please enjoy different individualities of each product. This glass has lifetime compensation, but it is only valid in Japan. If you are in Japan, Wired Beans will exchange the broken glass into new one. The compensation card and descriptions about the compensation are within wooden box. The first time is for 5,000. For the second time and after for 7,000 by cash on delivery. If you would like to exchange broken titanium glass into Clear glass, the first time exchange is for free. Also, customers need to pay shipping cost for sending and returning the product.
Short Description
【Eternal Glass / Old fashioned glass f / Titanium coated】This is Old fashioned glass f Titanium coated from Eternal Glass series. Titanium coated glass has calm gradation. The outside is dynamic, whereas, the inside is shiny mirror surface. outside color is blueish rainbow. The titanium inside reflects the color of drink.
The titanium is high-purity pure titanium. It does not include any other metals. You can use it at ease.

The glass is handmade by traditional craftsmen of Joetsu Crystal glass. And it designed by GK Industrial Design. Titanium coating is done by Nissho Kogyo, which won great reputations from its unique high skill.
This glass has lifetime compensation (only valid in Japan.)
Related Products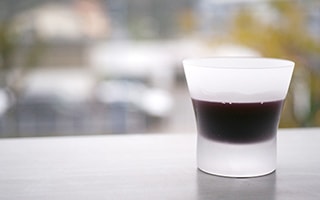 Wired Beans
Not "New item", but "item that renew your mind." This is the concept of Wired Beans. Wired Beans is an only brand that offers "lifetime compensation" to their products.
Related Posts