Edo kiriko / Arare / Purple / Karai Series / Hirota Glass
Stock status

Available for reserve
Due date for dispatch

2022-08-12
Easy order, Ship soon
Payment

Paypal

* Available Credit Card is depend on customer's Paypal account policy.
Please check your Paypal account pilicy for your choiced card.
More Information
size
φ87-H95mm 200ml
weight (g)
909.0000
notes
oven, freezer, microwave, dishwasher cannot be used.
remarks
Please soak glasses in lukewarm water with neutral detergent. Wash with soft cloth or sponge one by one. When you wash inside the glass, please do not twist the sponge.Please use the sponge with handle.
Short Description
【Edo kiriko / Arare / Purple / Karai Series】On the purple color like an amethyst, Japanese traditional pattern Arare is expressed by Edo kiriko.
Karai series is an elegant glass with glitter like jewels in flower buds shape. Among 4 types, Edo kiriko glasses have both cuteness and elegance. Detailed patterns are carved by craftsmen. Delicate work reflects light and changes its mood by drink inside the glass. Karai series are within exclusive box. Great item for gifts.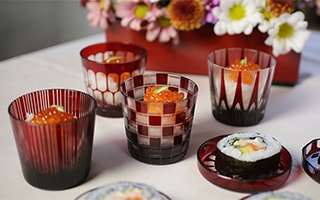 Hirota Glass
Continued from 1899, it is a long-established glass studio of Tokyo Kinshicho. Glasswork by skilled craftsmen. Mind is peace just looking at the product.
Related Posts