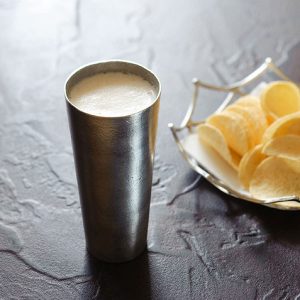 Hello, how's it going?
This weekend is the Father's Day.
Have you already decided the present?
This year, Father's Day is June 18th Sunday.
Let's express daily appreciation for your father, step father, or husband.
The present has an important roll for expressing your feelings.
If you do not decide the present yet, we recommend some popular items of Japan Design Store.
☆Ranking of Father's Day Gifts☆
Perfect present for sake-lover fathers!
In Japan, a TV program introduced the tin sake tumbler of Nousaku. Now, we get concentrated orders.
100% real tin tumbler can remove the miscellaneous taste of sake, and make sake more delicious. This tumbler size is usable when you drink beer, sake, or water or tea.
"NAJIMI" means "fit" in Japanese. This name comes from a dent for putting your thumb on one side. Stylish but usable tin tumbler.
Suitable gift for beer-lover fathers!
It is getting hotter and hotter these days.
For this hot season, beer cups are popular items for fathers. The smooth froth of beer satisfy the beer lovers.
This pair has been popular for the usability. Large cup is best for beer, and small tumbler is usable for water or any other drinks.
For not sake lover, how about this stylish tray?
If your father likes cooking, his food presentation idea is broaden.
(In addition, and hopefully, he cook more than now…! )
Moreover, suzugami can be used as a tray for small stuff.
Glasses, cuff links, or fountain pens.
It is great interior in father's study.
Your father can enjoy making favorite forms.
Japan Design Store offers more great items.
We hope you can find a great present, and see your father's smile 🙂