【セット】ナチュラル可愛い北欧風お食い初めセット 化粧箱入
Payment

Paypal
More Information

| | |
| --- | --- |
| size | Differs depending on the item |
| weight | 935.0000 |
| notes | Differs depending on the item |
| remarks | 【TORIZARA・KOTORIZARAにつきまして】_x000d_ 職人が1点1点手作業で作っている為、仕上がりに商品ごとの個性が見られますが、手仕事品の特性としておたのしみください。磁器製品は急激な温度変化で割れることがあります。電子レンジ・食器洗い乾燥機をご使用の際は、機器の注意表示を十分お読みいただき、定められた方法でお使いください。直火・オーブン・IHクッキングヒーターによるご使用はできません。頑固な汚れは台所用漂白剤を定められた条件にてご使用ください。_x000d_ 【めいぼく椀につきまして】_x000d_ 天然木材を使い、ひとつひとつ職人の手仕事でつくられている木製のお椀ため、木肌の表情(色や模様など)はすべて異なり、サイズや形にも多少の個体差がございます。木肌の中に、濃い茶色の線等がある商品もございますが、不良品ではございませんので天然木の特徴としてお楽しみ下さいませ。_x000d_ 【東屋のそばちょこ・豆皿・小皿につきまして】_x000d_ 職人が1点1点手作業で作っている為、_x000d_ お皿一枚一枚に個体差があります。柄のずれや抜け、色の濃淡や滲み、ざらつきなど商品ごとの個性が見られますが、手仕事品の豊かな特性としておたのしみください。 |
| Short Description | 「ナチュラル可愛い北欧風お食い初めセット 化粧箱入」です。_x000d_ 大切なお子さまの健やかな成長を願い、当店だけのオリジナルお食い初めセットをご用意いたしました!_x000d_ こちらはFloydの「TORIZARA」「KOTORIZARA」、東屋の土灰豆皿「たんぽぽ」とそばちょこ「輪線」、薗部産業のめいぼく椀(小)の組み合わせ。トリザラとコトリザラがまるで親子のよう!写真映えする可愛さが魅力的なお食い初めセットです。_x000d_ 日本デザインストアのお食い初めセットは、儀式の後も長くご愛用いただける日本製のおしゃれな食器でコーディネート。どれも職人さんが真心をこめて作り上げた逸品です。幼い頃から「本物」の器を使う経験は、豊かな感性を育てることでしょう。_x000d_ おしゃれな食器のセットは出産祝いや1歳の誕生日祝のプレゼントにもおすすめです。 |
azmaya
Azmaya is a producing brand. Azmaya collaborates with many Japanese traditional ateliers or designers to create Japanese modern products. The popular items are Inban series. Beautiful porcelain with white and blue colors. Also, their Nanbu tetsubin is famous for its design and function.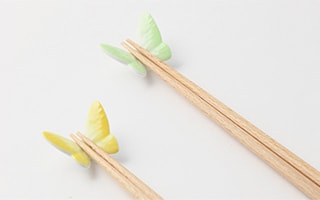 Floyd
Floyd states its mission as "To deliver emotion, surprise, and smile to people." Their products have great design with playful mind. Floyd offers various suitable items for gifts.
Sonobe
Sonobe is a brand of woodwork under the concept of "Japanese wood, Japanese handwork." In elementary schools in Odawara city of Kanagawa prefecture, wooden soup bowls from Sonobe have been used for school lunch.
オリジナルギフトボックス has related articles