Stoneware Plate / White / L / SyuRo
Stock status

Available for reserve
Due date for dispatch

2021-12-21
Easy order, Ship soon
Payment

Paypal

* Available Credit Card is depend on customer's Paypal account policy.
Please check your Paypal account pilicy for your choiced card.
More Information

| | |
| --- | --- |
| size | φ300×H30 外箱:315×325×40mm |
| weight (g) | 1100.0000 |
| notes | Oven, freezer, microwave, dishwasher can be used. |
| remarks | Stoneware dinnerware of SyuRo is handmade one by one by craftsmen. Color irregularities, blurs, or different shades of colors appeared when tableware is glazed or baked. Please enjoy only one appearance of handmade product. Can be used in microwave ovens at temperature of up to 260℃ or 500℉ and dish washers (dryers). Can be stored in the refrigerator and freezer at a temperature of -20℃ or -4℉. Sudden changes in temperature, which may damage the ware, even within the temperature range. Should not be exposed to direct heat from the stove top. Wash with neutral detergent. Using an abrasive scrubbing brush, metal scrub brush and cleanser may damage the ware. Stop using if any cracks or chips develop. |
| Short Description | 【Stoneware Plate / White / L】This is Stoneware Plate L White from SyuRo. SyuRo's stoneware has unique taste like a vintage tableware. It looks plain but has warm color. White stoneware dinnerware is coated with white glaze on red clay. So, it has grayish color. Stoneware plate L is good for big salad or main dish. Also, rustic stoneware dinnerware can be beautiful home decor. Stoneware is baked at high temperature. So, it is hard to get smell of dishes and easy to remove stains. Also, you can use stoneware dinnerware in oven, microwave oven and freezer. Useful and stylish stoneware would be great gifts for cooking lovers. |
Related Products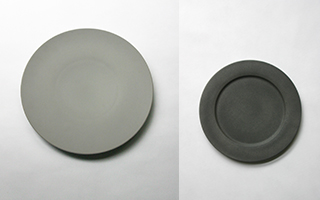 SyuRo
SyuRo has its atelier in a town in Tokyo where has a lot of small factories. Their items are simple, stylish and can be used for a long time. They propose comfortable life to in and out of Japan.