Japanese Cutlery Flatware Sets from Pal Design Studio
Active Creators' Products
:Japan Design Store supports Creators!
Technique of Katana for Japanese Cutlery Sets
[Pal Design Studio]Cutlery of Japan VersionⅠ
Our original set
Exclusive gift box
With Japanese description
With English description
New Japanese cutlery sets from an architect
French cuisine is permeated in Japan and we can enjoy "Japanese French" cuisine everywhere now.
However, it is hard to find Japanese flatware sets suitable for Japanese modern atmosphere. Also, only a few Japanese cutleries can cut meat easily.
This "JAPAN OF CUTLERY – Version Ⅰ-" is a masterpiece of high-quality Japanese flatware invented by Tatsuo Kuriki who is a designer and an architect.
Table knife is made by "Seki Kanetsugu" in Seki city of Gifu prefecture. Seki Kanetsugu has inherited skill of making Japanese sword katana. Fork and spoon are produced by Tsubame Bussan. In fact, the cutleries of Tsubame Bussan is purveyor to the Imperial Household of Japan.
We recommend this Japanese silverware to those who like having home parties, look for Japanese souvenirs, or owners of Japanese or French restaurants.
You can find beautiful "JAPAN OF CUTLERY – Version Ⅰ-" only in Japan Design Store as online shops.
Let us introduce new Japanese flatware born with an idea of an architect.
Attention from the world! Skill of manufacturing cutleries in Japan
Technique of manufacturing cutleries has been developed from the manufacturing of Japanese sword katana.
Katana was developed in Sengoku era (about 1500 ~ 1600) by swordsmiths to make sharper sword to kill enemies.
In pursuit of awfully sharp sword, sword smiths tempered steels. This method is very unique.
From this historic background, chefs from all over the world want Japanese cutlery and they get knives when they visit Japan.
In Kappabashi of Tokyo or Nishiki Ichiba of Kyoto, hundreds of Japanese kitchen knives are sold every day.
In fact, the knives of highest-quality in a famous German maker are produced by Japanese maker.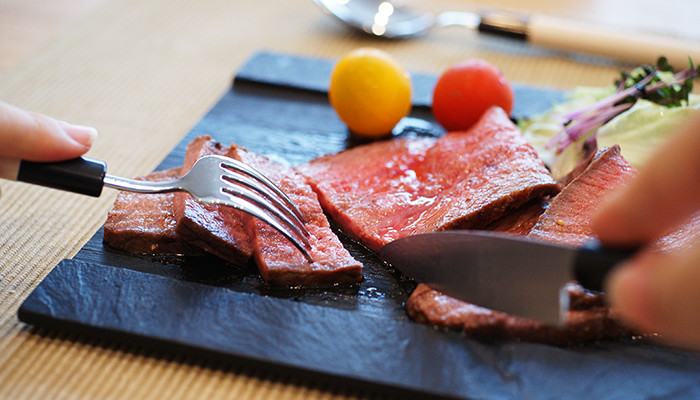 Unique and new! Table knife in shape of kitchen knife
This table knife in the Japanese flatware set is not produced by knife craftsmen but by swordsmiths who inherits traditional skill of katana.
Craftsmen of "Seki Kanetsugu" in Seki city of Gifu prefecture polish each knife carefully to make a sharpest Japanese cutlery.
Even if chefs cooked well with sharp knife, dull table knife spoils the taste of food. But still, using kitchen knife at dinner table is not stylish.
This table knife in the Japanese silverware set is so sharp that the knife can cut food without breaking the cells of it.
Japanese cutlery can cut any food that used to be hard to cut by usual table knives such as steaks, squids, octopuses, shellfish or hamburger steaks.
Please feel the sharpness of this Japanese cutlery.
Easy to care table knives
Table knife of Japanese cutlery set is a small kitchen knife. Actually, Japanese traditional knives need special care such as sharpening knife to keep its sharpness and avoid rust. The care of knives is one of the work of a chef. But just for home use, special care is a troublesome work.
However, you do not need a special care for this Japanese cutlery. The table knife is made of an exceptional material to keep sharpness as well as easiness.
The material of the table knife in Japanese cutlery set is an alloy with stainless steel and special components. This combination is a trade secret of Seki Kanetsugu. Other makers cannot imitate the skill easily.
To make a table knife of the Japanese silverware set, craftsmen quench strong metal board made of not-rust alloy, shape it with a mold, and polish it one by one.
By any chance the knife becomes dull, you can revive its sharpness with sharpener. The sharpener can be general one.
Tsubame Bussan, a purveyor to the Imperial Household of Japan made Spoon and Fork
Tsubame Bussan in Tsubame city of Niigata prefecture produces the spoon and fork of "JAPAN OF CUTLERY -Version Ⅰ-". Tsubame city is said to be a mecca of Japanese cutleries.
Tsubame Bussan is established in 1751. It has history of more than 265 years. In 1911, Tsubame Bussan started to produce cutleries as the entrepreneur for Japan.
In 1974, they dedicated cutleries to the Imperial Household as the cutleries for the Emperor and the Empress. In addition, their products are used in a banquet for the guests of the nation in State Guest House Akasaka Palace.
We can feel the pride of a historic company from their unchangeable manufacturing and uncompromising production.
In general, Tsubame Bussan does not produce original products. However, they empathize with the concept of Japanese cutlery set project. So, we can introduce representative high-quality spoons and forks to everyone.
Useful design of spoon and fork
Japanese cutlery set incudes 3 cutleries. A table knife of Japanese kitchen knife, spoon and fork. To harmonize the atmosphere of knife, spoon and fork have modern and cool Japanese atmosphere.
Spoon in the Japanese flatware set is a little bigger than usual spoons. So, we can spoon up soup easily. Fork has wider shape than general forks. This shape respects a Japanese traditional farming spade "Suki." Wide fork enables us to catch food easily. Also, fork has some degrees of angle so that we can take food easily.
Spoon and fork of the Japanese cutlery set is made of stainless steel. They do not need special care like a silverware.
Smooth and comfortable handles of plain wood
All handles of fork, knife, spoon in the "JAPAN OF CUTLERY -Version Ⅰ-" are made of Japanese plain wood. Wooden handle has smooth texture.
Also, the handles have oval shape, not rounded. Oval shape fits our hands gently.
Waxed wooden handles are strong against stain.
When our staff used the Japanese cutlery set, he tried to put steak sauce on the wooden handle. He wiped up the sauce with tissue immediately and the handle kept its beautiful plain wood. No marks remained.
Waxed plain wood handles are hard be stained by sauce.
Though, stain may remain if we leave the handle with sauce for a long time. When the handles of Japanese flatware get stain, please wipe off or wash them soon.
The color of plain wood changes over the years. As the time passes, the color gets deeper.
Joint place of handle and metal parts are covered with black resin so that the handle does not rot with water. This Japanese silverware set has both usability and beautiful design.
Even for who knows well about cutleries, he or she will be surprised to see this Japanese modern flatware. No one can find such a cool cutlery in the cutleries of Christofle or LAGUIOLE in France.
Japanese cutlery sets can be used in household as well as elegant restaurants. You can use the cutlery sets for a long time.
Japanese cutlery set within beautiful paulownia box
Each cutlery set of "JAPAN OF CUTLERY -Version Ⅰ-" will be shipped within a beautiful paulownia box.
Exclusive wooden box is produced by MIHAGI KOUGEI in Hagi city of Yamaguchi prefecture.
MIHAGI KOUGEI seeks after manufacturing process to produce safety, quality, beauty, and stance of company to coexist with environment. Of course, they obey the food sanitation law.
We can see their pursuits in their products. For example, paulownia wood includes lye. They take long time to remove the lye of paulownia. First, they soak the wood into warm water for 2 weeks, and after that, soak it in cold water for 2 weeks. After soaking, they dry the wood for more than 3 months by natural dry. They only use the wood passing all the process.
MIHAGI KOUGEI does not do artificial bleach with chemicals. They take time and work to produce products in traditional method. Now, a few studios take such methods.
The paulownia box of the Japanese cutlery set is different from general box that is finished with bleach on dry wood. MIHAGI KOUGEI produces paulownia boxes for national-treasure class ceramics. Please feel the quality with your hand.
What is Pal Design Studio?
CTO Architect Tatsuo Kuriki
Pal Design Studio is an architectural office. Generally, they design houses with court or other building.
Mr. Kuriki is a class-1 architect. Also, he likes manufacturing. So, they establish product division and design the following products.
①Product which is useful for the world
②Product which is specialized in "Japan"
③Product which is specialized in Design
This Japanese cutlery set is categorized in ②. He produced a flatware set with Japanese katana table knife.
Got a message from Creator!
What is cutlery?
How the Japanese cutlery set was born?
* "JAPAN OF CUTLERY -Version Ⅰ-" is done the registration of its design.
Caring tips
* Cutlery be mobile as long as there is not business other Justifiable reason (ex. Fishing, Camping, Mountain-climbing, Hunting, etc.) is prohibited by law.
* This is cutlery set. Please do not use other than applications.
* Please be careful when handing so as not to hurt your hands or finger because it is cutlery.
* Please do not point to a person the cutlery.
* Please do not cut the hard stuff. Unreasonable usage may damage the blade or other damages of products.
* Please wipe off with a dry cloth when it is wet with water or any other liquid. Handles of Japanese cutleries are made of plain wood. To make the most use of natural taste, they are waxed. However, if you leave the handles in wet for a long time, the place may become stain.
* Please do not place near fire. Handles may get burnt or transform.
Return / Exchange / Repair /Cancel of the items of Active Creators
Personalize gift service
For the bulk order more than 20 items, we can personalize your items with the name of your company, school, or with logomarks. If you plan to order corporate gifts or keepsake gifts, please contact us from "Contact us."
* Personalize gift needs service fee. The fee depends on items.
* Personalize service is not available for some products. Please feel free to ask us.
Japan Design Store × Creators
In this page, we introduce highly sensitive items produced by creators who invent Japanese traditional crafts or handicrafts independently.
Young and energetic creators produce fresh and rare products which are not available in other stores.
Japan Design Store supports new creators who enliven Japanese traditional culture and crafts.